We're Getting Mutants in the MCU - The Loop
Play Sound
"What we're going to do is take it a little bit deeper, and start to really explore backgrounds and characters, the immigrant experience during that time, the economic challenges during that time. Really just be a little braver about telling the real stories, you know, what people were really experiencing."
—Jean Lambur, executive producer
L.M. Montgomery's Anne of Green Gables is a 2016 Canadian television film created by Breakthrough Entertainment. Initially announced as a thirteen-episode series in July 2012,[2] it was directed by John Kent Harrison, written by Susan Coyne and starred Ella Ballentine, Martin Sheen and Sara Botsford.
Synopsis
[
]
It is the year 1907 on beautiful Prince Edward Island. Anne Shirley is mistakenly sent there to Matthew and Marilla Cuthbert, a middle-aged brother and sister who had intended to adopt a boy to help them on their farm.
Anne must make her way with the Cuthberts, in school and in the town of Avonlea to ensure she is never sent back to the orphanage again.
Based on the globally beloved classic children's novel, that was first published in 1908 by Lucy Maud Montgomery, Anne of Green Gables is the story of a fiercely imaginative little girl who, with her irrepressible spirit, touches the lives of everyone that she meets. In particular, it is the story of Anne's stormy relationship with the strait-laced Marilla Cuthbert who discovers through Anne a capacity for love that she never knew she had.
Plot
[
]
Cast
[
]
Crew
[
]
Casting: Lisa Parasyn CSA, Jon Comerford CSA
Composer: Lawrence Shragge
Costume Designer: Michael Harris
Director: John Kent Harrison
Director of Photography: Ousama Rawi BSC CSC
Editor: Ron Wisman CCE
Executive Producers: Joan Lambur, Peter Williamson, Nat Abraham, Ira Levy, Michael McGuigan, Kate Macdonald Butler, Ramon Estevez
Producer: Ross Leslie
Production Designer: Lindsay Hermer-Bell
Writer: Susan Coyne
"A" Camera Operator: Antony Ellis
"B" Camera Operators: Brian Harper, Daniel Abboud
Accounting Services: Kay & Warburton, Chartered Accountants
Additional First Assistant Director: Aline Robichaud
Additional Second Assistant Director: Emily Drake
ADR Editor: Rob Ainsley
ADR Recording Engineers: Tom Heron
Animal Wranglers: Tom Bishop, Jr., Rick Parker
Art Director: Bradley Greaves
Assistant Costume Designer: Margret Forsyth
Assistant Craft Server: Brent Roach
Assistant Hair Stylist: Suzanne McGlynn
Assistant Makeup Artist: Rachel Affolter
Assistant Production Coordinator: Kyle Kitagawa
Assistant Property Master: Rae Crombie
Assistant Sound Editors: Dave Johnson, Nadya Hanlon
Assistant to the Director: Dave Senior, Jr.
Basecamp Genny Op: Peter Bradley
Best Boy Electrician: Yuri Esch, Andy Gondek
Best Boy Grip: Chris Monk
Boom Operator: Ofer Geva, Drew Williams
Buyer: Jim Murrin
Camera Equipment: Sim Video
Camera Trainee: Matt Drew
Cast Tutor: Andrea Eisen
Caterer: En Route Catering
Colourist: Lorraine Grant
Compositing Supervisor: Rob Greb
Compositors: Rob del Ciancio, Jeff Bruneel, Ken Lin
Construction Coordinator: Phil Carvalho
Craft Services: Focused on Food
Cutter/Tailor: Trish Nicholson, Bob Welsh
Dialogue Editor: Jill Purdy
Digital Matte Painters: Jadrien Cousens, Andrew Nguyen, Frederic St-Arnaud
Digital Media Technician: Baha Nurlybayev
Dolly Grip: Jayme Hutchinson
Drivers: Richard Hooper, Allen Kosonic, Robert D. Maclean, George Solty
Electrics: Andy Gondek, Greg Machula, Paul Michel
EPK Camera Operator: Juan Montalvo
Extras Casting: Roisin McGilly
First Assistant "A" Camera: Chirayouth Saysana
First Assistant "B" Camera: Jeff Hicks
First Assistant Accountant: Terry Wareham
First Assistant Director: Felix Gray
First Assistant Special Effects: Jason Stanton
Foley Artist: Simon Meilleur
Foley Recordist: Shaun Gallagher
FX: Alpha Channel
Gaffer: Jonathan Brown
Genny Operator: Chris Taylor
Grip & Electric Equipment: PS Production Services
Grips: Evan Blacker, Oscar Garcia
Head Carpenter: Ryan O'Connell
Head Drivers: Tim Carleton, Jim Snell
Head Painter: John Ens
Insurance Broker: Front Row Insurance
Interim Financing: HSBC Bank Canada
Key Craft Server: David Dodge
Key Grip: Joe Strazzeri
Key Hair Stylist: Leanne Morrison
Key Makeup Artist: Joan Chell
Key Scenic: Robert D. Taylor
Lead Set Dresser: Craig Harris
Location Manager: Mike Bruce, Catherine Crawford
Location Scout: David Korchok
Location Sound Recordist: Bryan Day
Locations Production Assistant: Joey Robinson Jr.
On Set Dresser: Michael Bennardo
On Set Key Special Effects: Frederick Gagnon, Dylan Hankinson
Online Editor: Chris Munro
Payroll Services: EP Canada
Post Production Coordinator: Angel Forbes
Post-Production Facility: Breakthrough Post
Post Production Facilities Manager: Michael Palmer
Post Production Producer: Nahid Islam
Production Accountant: Andrea Wassell
Production Assistants: Jeffrey Edwards, Henri Hirst-Mahal, Paco Bermudez
Production Coordinator: Dave Wilson
Production Manager: Leanne Brennan
Property Master: Geoff Murrin
Re-Recording Mixer: Chris Cobain
Script Research Services: The Script Company
Script Supervisor: Melanie Orr
Second Assistant "A" Camera: Joe Frechette
Second Assistant "B" Camera: Mark Zanin
Second Assistant Art Director: Kim Thomson
Second Assistant Director: Nick Vandal
Senior Visual Effects Supervisor: Brendan Taylor
Set Buyers: Alexandra Anthony, Robert Steele
Set Decorator: Bert Kirkham
Set Dresser: David J. Brown
SFX Editor: Clive Turner
Special Effects Supervisor: Dylan Hankinson
Stand In: Patricia Lariviere
Stills Photographers: Sophie Giraud, Steve Wilkie, Ken Woroner
Stunt Coordinator: James Binkley
Supervising Producer: Audrey Velichka
Supervising Sound Editor: Janice Ierulli
Third Assistant Directors: James Dalton, Andrew Palmer
Transportation Captain: Robert Arsenault
Transportation Coordinator: Scott Clarke
Unit Publicist: Cynthia Amsden
Visual Effects Coordinator: Stuart Wall
Visual Effects Created by: Mavericks VFX
Visual Effects Producer: Greg Behrens
Visual Effects Supervisor: Greg Sigurdson
Wardrobe On-Set Supervisor: Anita K. Schapansky
Wardrobe Truck Supervisor: Les Handrahan
Second Unit Winter Scenes
Assistant Property Master: Bill Thrasher
Camera Trainee: Arvin Cordova
DOP/Camera Operator: John Vatcher
Drivers: Mike McCullough, Blythe Tsuji-Carr
First Assistant "A" Camera: Lori Langstaff
Gaffer: Sean Burton
Genny Operator: Steve Hutchinson
Key Grip: Tyler Sellers
Location Manager: David Korchok
Location PA: Steve Zagrodny
On Set Dresser: Hans Leon
Package Truck Drivers: Tony Connor, Steve Cammack
Property Master: John Archbell
Second Assistant "A" Camera: Jayjay Callan
Third Assistant Director: Micah Warry Smith
For Breakthrough Entertainment
Business Affairs Administrator: Owen Kelly
Director of Business Affairs: Alicja Wicinski
Director of Digital Media: Dorothy Vreeker
Director of Finance: Lori McIndoe
Director of Legal Affairs: Lauren Leinburd
Executive Assistant: Kim Martin
Legal Counsel: Nghia Nguyen
Post Production Accountant: Ans Amsen
Production Accountant: Ian Stuart
The Producers Wish to Thank
Heirs of L.M. Montgomery
Sally Keefe Cohen
Country Heritage Park
Black Creek Pioneer Village
Ron Winsman Jr.
Additional Footage Provided by
PEI Tourism Board
Can Stock Photos
Getty Images
Shutterstock
Pond 5
Distribution
[
]
L.M. Montgomery's Anne of Green Gables premiered on YTV in Canada on February 15, 2016, which was also Family Day in most provinces in Canada. It re-aired on May 29 and July 1 (Canada Day) of the same year.
The broadcasting in Germany is managed by Bayerischer Rundfunk/ARD. The film premiered in Germany on ARD before being released on DVD and Blu-Ray on July 18, 2016, with two language options (the original sound and German dubbing).[3]
Its distribution in Australia is managed by Umbrella Entertainment. It debuted in selected cinemas in Australia on June 9, and in New Zealand on July 7.[4] The first English DVD was released in Australia by Umbrella Entertainment on October 5, 2016.[5]
The broadcasting in Central Europe is managed by HBO. The film premiered in Poland on August 6, 2016, and in the Czech Republic and Hungary on August 11, 2016. It has been frequently repeated since then.[6][7][8]
The broadcasting in the United Kingdom is managed by ITV. The film premiered in the United Kingdom on ITV3 on August 28, 2016, and was later released on DVD on March 20, 2017.[9]
The broadcasting in the United States is managed by PBS.[10] The film was released on DVD by PBS on November 8, 2016, before premiering on the PBS channel on November 24, 2016 (U.S. Thanksgiving Day).[11]
Its distribution in Japan is managed by Happinet Corporation and Synergy Entertainment. It was scheduled for theatrical release on May 6, 2017, which was followed by the film's DVD and VOD release in the country.[12]
Behind the scenes
[
]
Casting
Production notes
The filming took place in Milton, Ontario.
Trivia
It is the first television adaptation of the books made in close partnership with the author's family. Kate Macdonald Butler, the granddaughter of L.M. Montgomery, is one of the executive producers.
"From the inspired casting, the tender script and its eloquent adherence to the story of Anne Shirley, my family is so proud to be associated with bringing Breakthrough's film adaptation to a new generation of viewers."
—Kate Macdonald Butler
Awards and accolades
[
]
Year
Award Show
Category
Recipients
Result
2016
Joey Awards
Feature Film/Made for TV/Straight to Video Ensemble
Ella Ballentine, Jaime Feggi, Zoe Fraser, Drew Haytaoglu, Stefani Kimber and Julia Lalonde
Nominated
Young Actor MOW/Straight to Video Principal/Supporting Role 12-17 Years
Drew Haytaoglu
Nominated
Young Actress Feature Film/MOW/Straight to Video Featured Role 5-7 Years
Jaime Feggi
Nominated
Young Actress Feature Film/MOW/Straight to Video Featured Role 5-7 Years

Sophie Roberts

Nominated
Young Actress MOW/Straight to Video Leading Role
Ella Ballentine
Won
Young Actress MOW/Straight to Video Principal/Supporting Role 13-20 Years
Julia Lalonde
Won
Young Actress MOW/Straight to Video Principal/Supporting Role 13-20 Years
Stefani Kimber
Nominated
Kidscreen Awards
Teens Best One-Off, Special or TV Movie
Nominated
2017
Canadian Screen Awards
Best Original Music Score for a Program
Lawrence Shragge
Nominated
Best Writing in a Dramatic Program or Limited Series
Susan Coyne
Nominated
Best Performance by an Actress in a Leading Role in a Dramatic Program or Limited Series
Sara Botsford
Nominated
Gallery
[
]
Videos
[
]
Trailers
Clips
Interviews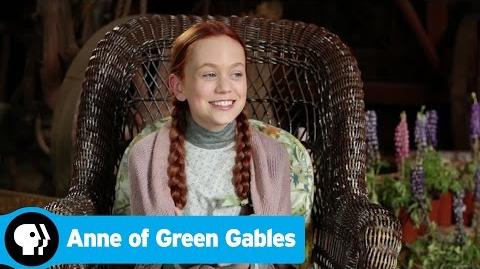 References
[
]
External links
[
]
See also
[
]