"Jem, of the steady lips and fearless eyes ..."
James Matthew "Jem" Blythe
was the eldest son of
Anne
and
Gilbert Blythe
, younger brother of
Joy
(†), older brother of
Walter
(†),
Nan
,
Di
,
Shirley
and
Rilla Blythe
, the husband of
Faith Meredith
and father of
Jem
,
Walter
and
Anne
.
Biography
Edit
Early life
Edit
Jem was born in July 1892 in the House of Dreams, Four Winds, to Anne and Gilbert Blythe. His family was anticipating his birth greatly and over the moon that he was born safely, for his elder sister Joy had died at birth and nearly took Anne with her. Jem was ten pounds at birth and had a healthy set of lungs.
This page needs your help!

You can help out Anne of Green Gables Wiki by adding or updating to the article, correcting grammar and spelling issues, and taking other steps to make the article great. If you need any help, please see our policies. Details: Update for events from Anne of Ingleside, Rainbow Valley and Rilla of Ingleside.
Childhood
Edit
Jem was very naive as a child and often believed that his stomach was his heart. He was good-natured and got into many adventures. For the most part Jem was easy going, but like any boy, at times he got annoyed with his parents. One notable event happened when he was seven. He wanted to go down to Four Winds with his friend Bertie Shakespeare Drew to see Bertie's brother get a tattoo, but his parents wouldn't let him. He was mad at them for a while and had several ideas about running away. That evening, Anne and Gilbert went out, leaving Susan to watch the children. They came home to find all the lights on and a frantic Susan who said that Jem was lost. Several panicked hours later, after they had searched in all the usual and unusual places, as well as getting a search party started, they found Jem on the curled up, asleep on the window seat. When he was woken Jem said he wanted to see them arrive home, but fell asleep and he no longer cared about not seeing Joe get tattooed.
One November when Jem was about eight, he bought home a puppy named Gyp. The Blythe family hadn't had a dog in many years, since their old dog, Rex, had been poisoned. Gyp was allowed to stay and so began a happy month. Tragedy struck in December when Gyp became very sick and died. Jem was distraught after Gyp died and for the longest time refused to get another dog.
Because Anne had been so understanding to Jem after Gyp's death, Jem was determined to get her a nice birthday present. He overheard his mother saying that she wished to own a pearl necklace, but that Gilbert couldn't get it at the moment and decided to save up the fifty cents to buy one from Carter Flagg's store. Jem figured out many ingenious ways to earn the money: making tops out of old reels, selling milk teeth, selling his slice of apple crunch pie, and his string of birds' eggs. He stored everything in a little brass piggy bank that would open if you twisted the tail. When Jem had saved up enough money, he went to open the back, but discovered that it was missing. Later, Jem discovered that Mac Reese, the boy he had sold the birds' eggs to had taken the bank to try it out and accidentally broke it and had put the broken pieces in one of Jem's Sunday boots. After he found the money, Jem was able to get the necklace without any further incidents. He gave the necklace to Anne for her birthday and she loved it. A few days later Jem was devastated when he discovered that the pearl necklaces sold at Carter Flagg's store were fakes. He told that to his mother in tears, but Anne was once again very understanding.
When Jem was ten, he found a dog for sale and decided to try owning a dog again. The reason the dog Bruno, was for sale was because the owner Roddy, had to move to live with his aunt. Jem gave Roddy a dollar for Bruno and brought the dog home, but Bruno was a very sad dog. He was obedient, but never happy. After Bruno ran off and tried to go back to his owner's old home, Gilbert went into town and after a few inquiries was able to find out where Roddy lived and brought him to Ingleside. Roddy's presence brought an amazing change to Bruno and he became a different dog. Roddy told Jem that he actually could have a dog at his aunt's place, and after returning Jem's dollar, took Bruno home. After that, Jem gave up own owning a dog for several more years.
"They are the most real things I've ever had given to me. Because there was love and work and self-sacrifice in them."
—Anne to her son Jem.
School life
Edit
When Jem was thirteen, the Meredith family moved to the Glen and so began their adventures with the four Meredith children.
Studies at Queen's Academy and Redmond College
Edit
Jem attended Queen's Academy in 1907. After two years he went to Redmond College. He graduated in the Arts in 1913 and spent the holiday with his family and friends. Then he began his first year at medical school in Redmond.
World War I
Edit
Jem was extremely excited when England declared war on Germany. As soon as he could, he and Jerry Meredith went to Charlottetown to sign up. He was scared in the war, although he used to laugh at Walter for being a coward.
In May of 1918, Jem was declared "wounded and missing". In September 1918, Jem escaped from the German POW camp and arrived in Holland. From there he sent a telegraph to his family telling them that he was all right.
"A black-and-yellow streak shot past the station agent. Dog Monday stiff? Dog Monday rheumatic? Dog Monday old? Never believe it. Dog Monday was a young pup, gone clean mad with rejuvenating joy."
—Dog Monday, when Jem steps off the train.
In the spring of 1919, Jem returned home. Dog Monday was the first to greet him. Jem did not send word of his arrival, which caused some chaos when he arrived home. He had trouble facing the reality of Walter's death.
Later life
Edit
Jem finished his studies at Medical school in Redmond and became a doctor like his father. Later he married Faith Blythe and had two sons, Walter Blythe II and Jem Blythe II, and daughter Anne. 
Personality
Edit
"He was and always had been a sturdy, reliable little chap. He never broke a promise. He was not a great talker. His teachers did not think him brilliant, but he was a good, all-round student. He never took things on faith; he always liked to investigate the truth of a statement for himself ... By constant experiment and observation he learned a great deal and his brothers and sisters thought his extensive knowledge of their little world quite wonderful."
Physical appearance
Edit
"He had curly red hair, like his mother's, and frank hazel eyes, like his father's; he had his mother's fine nose and his father's steady, humorous mouth. And he was the only one of the family who had ears nice enough to please Susan."
Jem was tall and had his mother's famous red hair and his father's hazel eyes. He had well-shaped ears, something Susan was very proud of. Although not as handsome as his brother, Walter, or his best friend, Jerry, Jem grew up to be a good-looking young man.
Etymology
Edit
Miss Cornelia: "What are you going to call him?"
Gilbert: "Anne has settled his name."
Anne: "James Matthew—after the two finest gentlemen I've ever known—not even saving your presence."
―Anne reveals the names she chose for Jem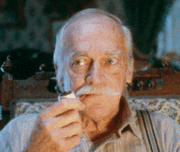 James
is a male given name of Hebrew origin and means
he who supplants
.
Matthew
is a male given name of Hebrew origin and means
gift of God
.
Behind the scenes
Edit
Trivia
Appearances
Edit
Book appearances
Short story appearances
Community content is available under
CC-BY-SA
unless otherwise noted.