"It isn't too old a house ... too old houses are sad. And it isn't too young ... too young houses are crude. It's just mellow. I love every room in it. Every one has some fault but also some virtue ... something that distinguishes it from all the others ... gives it a personality."
—Anne Blythe about Ingleside
Ingleside
is the second house of
Anne
and
Gilbert Blythe
. They moved there in October
1892
, after
Jem's
birth.
"The Morgan place will suit us in every essential particular—we really can't afford to miss such a chance. Think of that big lawn with those magnificent old trees; and of that splendid hardwood grove behind it—twelve acres of it. What a play place for our children! There's a fine orchard, too, and you've always admired that high brick wall around the garden with the door in it—you've thought it was so like a story-book garden. And there is almost as fine a view of the harbour and the dunes from the Morgan place as from here."
—Gilbert to Anne
Ingleside is located in the village of Glen St. Mary, Four Winds, Prince Edward Island. Four Winds is the area surrounding Four Winds Harbour, and thus, places nearby the Glen include Lowbridge, Mowbray Narrows, Four Winds Point and the Four Winds Light. By the house is a big lawn, a twelve-acre hardwood grove and a garden surrounded by a brick wall. There is also a view of the harbour and dunes from it, and it is possible to see the light at Four Winds Point from the attic window.
Rainbow Valley, where the Blythe children liked to play, is a little hollow just below Ingleside. It has fairy paths and a brook.
Gilbert: "The old Morgan place up at the Glen is for sale."
Anne: "Is it?"
Gilbert: "Yes. Now that Mr Morgan has gone, Mrs Morgan wants to go to live with her children in Vancouver. She will sell cheaply, for a big place like that in a small village like the Glen will not be very easy to dispose of."
―Gilbert and Anne
Sometime before or around September 1892, Mr Morgan died and Mrs Morgan decided to sell their house in the Glen in order to go and live with her children in Vancouver. Because it was such a big house, it would not be easy to sell, and thus would sell cheaply.
Anne and Gilbert Blythe were living in the House of Dreams at that point, which was a lovely house, though out of the way. Now that Susan and Jem had joined them, it was really getting too small for the four of them. So, when the old Morgan place went up for sale in September 1892, Gilbert suggested to Anne that they buy it, as she had always admired the house and it was in an excellent location for his work as a doctor. At first, she was aghast at the prospect of leaving their dear little home.
Diana: "I love the name Ingleside. It's such a nice, homey name."
Anne: "That's what Gilbert said. We had quite a time deciding on a name. We tried out several but they didn't seem to belong. But when we thought of Ingleside we knew it was the right one."
―Diana and Anne discussing Ingleside
The Blythes moved to the old Morgan place in October 1892, with the help of Leslie. Anne and Gilbert named their new house Ingleside. In the spring of 1893, their second son, Walter Cuthbert, was their first child to be born there. A pair of twins, Anne (Nan) and Diana (Di), followed in summer 1895.
On April 2, 1897, Anne and Gilbert's youngest son, Shirley, was born. Anne was ill for a long time after his birth, during which Susan looked after him and he became her favourite.
Mary Maria Blythe, Gilbert's father's cousin, visited Ingleside in spring 1899 and stayed until the first of June, 1900. Anne and Gilbert's youngest child, Bertha Marilla (Rilla), was born in July 1899.
While John and Rosemary Meredith were on their honeymoon, Aunt Martha and Jerry stayed at Ingleside for a month in the autumn of 1907. During the First World War, both Gertrude Oliver and Jims Anderson stayed at Ingleside.
Physical appearance
Edit
"I love all those magnificent trees on the lawn. I don't know who planted them but every time I go upstairs I stop on the landing ... you know that quaint window on the landing with the broad deep seat ... and sit there looking out for a moment and say, 'God bless the man who planted those trees whoever he was.' We've really too many trees about the house but we wouldn't give up one."
—Anne Blythe
Ingleside is a big white house with a generous garret. It has a large lawn with many trees, including a Scotch pine. The garden has a high brick wall around it, and there is a door in the wall, which makes Anne think of a story-book garden. The garden has many types of flowers, such as ferns, nasturtiums, roses and calceolarias (and even poppies, after Walter spilt a packet of seeds there), but no zinnias. Behind Ingleside is a twelve-acre hardwood grove, and below it is a maple grove with a brook running through it (Rainbow Valley).
"I love every room in it. Every one has some fault but also some virtue ... something that distinguishes it from all the others ... gives it a personality."
—Anne telling Diana about Ingleside
Anne called Ingleside a 'big, roomy house'. It has a large verandah with steps and a hammock out the front. From the verandah, it is possible to see people coming up the harbour road.
The big front door opens onto a hall, which contains the telephone. This hall apparently opens onto both the dining-room and the living-room, as it is possible to turn away from the telephone and be seen in either room (both Jem and Gertrude do this).
The living-room has a hearth, on either sides of which Gog and Magog, two china dogs, always reside, and a hearth-rug. There is a big unshaded window, from which you can see the lawn. At Christmastime one year, Jem and Walter brought a fir tree up from the Hollow and put it in a corner of the room. The family eats in the dining-room, where parties (such as Aunt Mary Maria's) are sometimes held.
The big kitchen has a pantry nice enough to please Susan, who disliked the tiny pantry in the House of Dreams that she had to work use previously. The children often played in the garret on rainy days. The Morgans left a spinning-wheel in a dark corner of the garret when they moved out, and Susan occasionally used it.
Also present are a sun-room, which faces the harbour (Anne saw a dark cloud above the harbour while sitting in this room), a library, which is directly underneath the spare room, as water was once spilt in the spare room which then discoloured the library ceiling, Gilbert's office and the cellar. There is also a outer side door, from which the spire of the Glen church is visible.
When he was young, Shirley once locked himself in the bathroom and forgot how to unlock the door. Walter also brought a fish inside and put it in the bath; it would have stayed alive if it hadn't got out somehow in the night.
Upstairs are the bedrooms. Whenever Anne went upstairs, she would stop on the landing to sit on the window-seat and look at the trees through the window.
Anne and Gilbert's room contains a window and is across the hall (which has an oriel window) from the boys' room. (When the children were younger, the boys shared a room and the girls shared a room.) In the boys' room, there is a window-seat behind the door. Jem and Walter slept in one bed and Shirley had a cot. In 1914, the room where Jem sleeps is still referred to as 'the boys' room'. However, in 1907, one of the rooms which faces the manse is called 'Walter's room'.
The next room is the girls' room. It is possible to see lights from the girls' room and Walter's room from the Glen's Presbyterian manse. Rilla shared a room with the twins when she was six, but by the time she was fourteen, she had her own bedroom. Nan and Di also apparently got their own bedrooms at one point, as there is a room known as 'Nan's room'.
Rilla's room is a 'little white room'. It has a window which opens over the verandah. Initially, Gertrude Oliver shared this room with Rilla, as there were no other rooms available. After Rilla brought home a war-baby (Jims), Gertrude switched rooms to share with Nan instead.
When Aunt Mary Maria visited, she took possession of Ingleside's guest-room, which is at the back. The spare-room has one of Mrs Rachel Lynde's apple-leaf spreads on the bed. Someone once spilt water in this room, which discoloured the ceiling of the library below. When Diana Wright came to visit, she stayed in the spare-room. There is a back bedroom, whose light is not visible from the road, where the nurse sleeps after Anne has given birth to Rilla. Susan also has a bedroom, but its location is unknown.
Etymology
Edit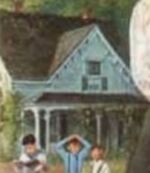 The word
ingle
is a fire-related word. Combined with the word
side
, it becomes Ingleside or
fire-side
. Anne and Gilbert likely chose it because their home was cosy and warm, like a fire.
Appearances
Edit
Book appearances
Short story appearances
Community content is available under
CC-BY-SA
unless otherwise noted.