"If Cordelia isn't your name, what is?"
Is Gilbert Blythe the article you are looking for? Anne of Green Gables Wiki has separate articles for the various portrayals of Gilbert Blythe in the books, films, television series and other media. For a list of all versions, see our disambiguation portal.
"I read in a book once that a rose by any other name would smell as sweet, but I've never been able to believe it. I don't believe a rose would be as nice if it was called a thistle or a skunk-cabbage."

This article is about the main character and husband of Anne Shirley. You may be looking for his grandson, Gilbert Ford.
Gilbert Blythe was the son of John and Mrs. Blythe, a classmate, friend and eventually the husband of Anne Shirley, and the father of Joy, Jem, Walter, Nan, Di, Shirley and Rilla Blythe.
After he finished school, he attended Queen's Academy and was a medallist. He then went on to teach for two years at a school in White Sands to earn money for college before attending Redmond College. He went to medical school (which he attended for three years) to train to become a doctor. After he left medical school and became a full-fledged doctor, he married his childhood friend and schoolmate, Anne Shirley. The two of them had seven children together, the eldest of whom, Joyce, died at birth, and the third, Walter, died while fighting in World War I.
Biography
[
]
Early life
[
]
Gilbert was born in 1862 in Avonlea to John Blythe and his wife. Though at thirteen he was two years older than Anne and Diana, he was in their class in school. Due to his father's illness, he had previously missed a lot of school. This motivated him to work hard to catch up. He enjoyed competing with Anne for the top ranking in every subject.
During the day he met Anne at school, Gilbert attempted to get her attention. When she steadfastly ignored him, Gilbert called her "carrots" and pulled her hair, unaware of Anne's sensitivity towards her red hair. She smashed a slate on his head and stubbornly refused to forgive, or even acknowledge him. Gilbert deeply regretted the incident and persisted in trying to get Anne to forgive him throughout their childhood, later realizing when he grew older that he fell in love with Anne on the day she broke her slate on his head. A strong scholastic rivalry developed between them, with many of their friends and contemporaries remarking that most of the topics that Gilbert discussed would likely only be understood and appreciated by Anne.
Teaching school
[
]
After graduating from Queen's Academy, Gilbert applied for a teaching job at the Avonlea School and was given the post. He later learned that Anne had also applied for the Avonlea schoolmaster position, giving up her dream of attending Redmond College in order to remain close to Marilla and help her out after Matthew's death. Gilbert chose to give up the position and told the board of trustees to let Anne have the school. This gesture provided her the opportunity to accept his friendship when she thanked him for his kindness and admitted that she had actually forgiven him shortly after he had rescued her from the Lily Maid mishap.
"We are going to be the best of friends. We were born to be good friends, Anne. You've thwarted destiny enough."
—Gilbert Blythe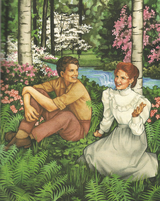 Gilbert took a position at the school in White Sands that September, frequently commuting between the school and Avonlea on weekends. During their years as schoolteachers, Anne founded the Avonlea Village Improvement Society; though Gilbert had not come up with the idea, his level of involvement in the group and as he often learned the details of most plans before anyone else as due to his close friendship with Anne resulted in many regarding him as a co-founder of the group.
Also during his teaching years, Gilbert also finally decides he would like to study to become a doctor:
"A fellow has to fight something all through life ... didn't somebody once define man as a fighting animal? ... and I want to fight disease and pain and ignorance ... which are all members one of another. I want to do my share of honest, real work in the world, Anne ... add a little to the sum of human knowledge that all the good men have been accumulating since it began."
—Gilbert Blythe to Anne Shirley
Redmond College
[
]
Gilbert later attended Redmond College with fellow schoolmates Anne, Charlie Sloane, Moody Spurgeon MacPherson, and others.
Near the end of their sophomore year in college, Gilbert proposed to Anne, only to be rejected. He was crushed when Roy Gardner appeared on the scene, sweeping Anne off her feet with his good looks and manners. They kept up a relationship for almost two years until Roy proposed to her, whereupon Anne realized she could never marry him. She knew that he wasn't her ideal because he was dull and lacked a sense of humor. In fact, he was the antithesis (in personality) of Gilbert.
Gilbert had heard that Anne was engaged to Roy Gardner and thought he'd lost her forever. He contracted typhoid fever the summer after graduation and became extremely ill. But when Philippa Gordon wrote to assure him that there was nothing between Roy and Anne and urged him to 'try again,' the doctors were amazed at his speedy recovery. When Anne heard that he was near death, she had a revelation: she loved Gilbert and always had. After his recovery, they resumed their friendship, but Gilbert soon proposed and Anne finally accepted.
Medical school
[
]
Gilbert attended medical school after leaving Redmond College. He and Anne exchanged letters regularly while he was away and she was principal of Summerside High School. They kept up this correspondence which Anne embellished with endearments from old love letters she had found in the house where she was staying. She and Gilbert saw each other on vacations when possible. Their love grew stronger in spite of the separation.
Marriage
[
]
Anne and Gilbert were married at Green Gables in a beautiful ceremony in the orchard on a sunny September noon. The wedding was small and private, with only the people who loved them was invited. Marilla was pleased with the marriage because she had once been courted by Gilbert's father, John Blythe, many years before. They had argued and Marilla had refused to forgive him, and he never came back. Marilla felt that Anne's marriage to John's son was a way of putting right what had been made wrong in the past.
Life at the House of Dreams
[
]
Before their wedding, Gilbert had gone to Glen St. Mary in search of a home for the two of them. He found a place near the sea with a rich history of young love and happiness. Anne and Gilbert lived a nearly idyllic life at Four Winds Harbour in their little House of Dreams. They met Captain Jim, Miss Cornelia, and Leslie and became involved in their lives in ways that helped both of them.
Two children were born at the House of Dreams in Four Winds, the first of whom died at birth. Anne had a difficult time, and Gilbert was afraid she might die. However, she survived and later had a second child, James Matthew, who was named after Captain Boyd and Anne's guardian, Matthew Cuthbert. Anne was sad to leave their first home together, but Gilbert knew they were outgrowing it and there was an even finer house to be had.
Life at Ingleside
[
]
Anne and Gilbert had their remaining five children at Ingleside. They were Walter, twins Nan and Di, Shirley, and Rilla.
World War I
[
]
At this time Gilbert was near the end of middle-aged years and was referred to as "the old doctor".
When World War I broke out, Gilbert and Anne's oldest son, Jem and Jerry Meredith, the minister's son, enlisted. Jem went off radiantly, as to a high adventure.
Sometime after, their second son, Walter, grappled with the decision of whether he should go off to war as well. He had Anne's deeply poetic and sensitive nature and hated the ugliness of war. In the end, he went, "in a white flame of sacrifice." When Shirley, their youngest son, turned eighteen, he went off to be a pilot "in a cool, business-like mood, as of one doing something, rather dirty and disagreeable, that had just got to be done."
Walter was killed in action in Courcelette (during the Battle of Fleurs), Jem was taken prisoner but eventually returned, and Shirley came back unscarred. Their two older daughters, Nan and Di, went to Kingsport to do work with the Red Cross. Rilla becomes responsible for a war baby when Gilbert advises her that if she wants to keep it, she must care for it herself. She grew and matured as a result of this experience. She became engaged to Kenneth Ford, the son of Anne and Gilbert's friends Leslie and Owen Ford.
After his sons all went off to war, Gilbert was described as feeling that his house was very empty, no longer filled with children's laughter as it had once been. He does his best to stay focused on his work and support Anne in her overwhelming grief over the loss of their son Walter.
Personality
[
]
Diana: "That's Gilbert Blythe sitting right across the aisle from you, Anne. Just look at him and see if you don't think he's handsome."
Anne: "I think your Gilbert Blythe is handsome, but I think he's very bold. It isn't good manners to wink at a strange girl."
―Diana Barry and Anne Shirley talking about Gilbert in school, after he winked at Anne.
When Anne first met Gilbert he was very self-assured and cocky and enjoyed teasing girls. She was the first girl who didn't pay attention to him and the first student to rival him in academics.
He tried to apologize to Anne, but for a long time she refused to forgive him for calling her "Carrots". When she finally did, he was grateful and happy. He spent the next nine years being her friend and pursuing her love.
When they married, he knew that he had completely won the heart of the person he loved most in the world, Anne of Green Gables.
Gilbert was known for his good looks, intelligence, and charming personality. He was also popular wherever he went and was named both football captain and class president during his freshman year at college. He was also invited to join an exclusive fraternity, an honour rarely bestowed on freshman.
Physical appearance
[
]
"He was a tall boy, with curly brown hair, roguish hazel eyes, and a mouth twisted into a teasing smile."
—Anne of Green Gables, Chapter 15
"What a splendid chin he has! I never noticed it before."
—Anne Shirley, distracted by her then-rival's looks during a lesson at Queen's
Gilbert was tall and broad-shouldered and had brown curly hair and hazel eyes. He was described as very handsome throughout all the books. Two of his children, Nan and Shirley, inherited his brown hair, while Jem and Rilla inherited his hazel eyes.
Relationships
[
]
Anne Shirley
[
]
Gilbert first met Anne when she started school in Avonlea. She took a deep disliking to him when he teasingly called her "Carrots", causing her to hit him over the head with a slate, as she was not fond of the fact that she had red hair. That same day, unbeknownst to Anne, Gilbert had fallen in love with her and vowed to himself that he would win Anne's heart someday. Despite his apologizing to Anne numerous times, it took years for Anne to forgive him.
"Once, when nobody was looking, Gilbert took from his desk a little pink candy heart with a gold motto on it, 'You are sweet,' and slipped it under the curve of Anne's arm. Whereupon Anne arose, took the pink heart gingerly between the tips of her fingers, dropped it on the floor, ground it to powder beneath her heel, and resumed her position without deigning to bestow a glance on Gilbert."
—Anne after being forced to sit next to Gilbert as punishment for tardiness.
When they were much older, Anne and Gilbert had become friends, and their relationship was quite platonic. He was interested in her for a long time (which at times seemed quite obvious) but Anne refused his interest, even when he first proposed to her.
"If Gilbert had been asked to describe his ideal woman the description would have answered point for point to Anne, even to those seven tiny freckles whose obnoxious presence still continued to vex her soul. Gilbert was as yet little more than a boy; but a boy has his dreams as have others, and in Gilbert's future there was always a girl with big, limpid gray eyes, and a face as fine and delicate as a flower. He had made up his mind, also, that his future must be worthy of its goddess."
—Gilbert reflecting on Anne during their schoolteaching years.
Heartbroken, Gilbert did not propose again until Philippa Gordon wrote a letter encouraging him to "try again". Gilbert, following her advice, did try again and proposed to Anne once more, who accepted it this time.
After they married, they moved to the district of Four Winds, where Anne gave birth to their first child, a girl named Joyce (also known as Joy). Unfortunately, Joyce only lived for a day. The couple mourned deeply and grieved her loss; however, they managed to move on and have six more children together: Jem, Walter, Nan, Di, Shirley, and Rilla. Even after many years of marriage, they were hugely devoted to each other.
Etymology
[
]
Gilbert is a male given name of Old French origin and means bright promise. The surname Blythe comes from the Old English meaning of happy, joyous, blithe.
Behind the scenes
[
]
Trivia
Gilbert was modeled after Will G. Pritchard, one of Lucy Maud Montgomery's first kindred spirits, who lived in Prince Albert, Saskatchewan. Diana Barry was modeled after Will's sister Laura.
Gallery
[
]
Appearances
[
]
Books
External links
[
]