"I read in a book once that a rose by any other name would smell as sweet, but I've never been able to believe it. I don't believe a rose would be as nice if it was called a thistle or a skunk-cabbage."

This article is about Gilbert and Anne Blythe's daughter. You may be looking for her niece, Diana Meredith, or Anne Shirley's best friend, Diana Barry.
Diana "Di" Blythe was the daughter of Gilbert and Anne Blythe, the younger sister of Joyce, Jem, and Walter, the twin sister of Nan, and the older sister of Shirley and Rilla Blythe.
Biography
Edit
Early life
Edit
Di and her twin sister Nan were born in 1895 in Ingleside, Glen St. Mary, to Anne and Gilbert Blythe. Their grandmother, Mrs. Blythe, visited Ingleside during their birth. Little Diana looked like her mother, with red hair and green eyes. Her twin Nan inherited her father's brown hair and hazel eyes.
She was raised along with her twin Nan and two older brothers, Jem and Walter. Diana was Walter's best friend and he told her all his secrets. Their younger brother Shirley was born two years later after twins' birth. The youngest sister Rilla was born when Di and Nan were four years old.
School life
Edit
Friendship with Jenny Penny
Edit
Jenny Penny exaggerated everything about her life, and forced Diana to sneak out and sleep over at her house, where Diana was terrified with their lack of rules, terrible way of life, and no manners.
Friendship with Delilah
Edit
Di's second notable friend was Delilah, who claimed to be abused and neglected by her stepmother, which resulted in Delilah sleeping over at Di's house. While pretending to love sleeping over, Delilah stole Diana's ring and insulted her house in front of everyone else.
Friendship with Laura Carr
Edit
After two failed friendships with girls her age, Diana loses some faith in humanity. However, she soon meets a new girl, Laura Carr. They became friends and were very happy together.
This page needs your help!

You can help out Anne of Green Gables Wiki by adding or updating to the article, correcting grammar and spelling issues, and taking other steps to make the article great. If you need any help, please see our policies. Details: Update for events from Rainbow Valley and Rilla of Ingleside.
Rainbow Valley Adventures
Edit
World War I
Edit
She and Nan both had Red Cross training.
Personality
Edit
She takes after Gilbert: "Di, in spite of her physical resemblance to her mother, was very much her father's child, so far as disposition and qualities went. She had the beginnings of his practical bent, his plain common sense, his twinkling sense of humor. "
Relationships
Edit
Gilbert Blythe
Edit
Diana was described as being her father's favourite, believed to be because of her resemblance to her mother[1]. (Nan had brown hair and eyes and Rilla had reddish-brown hair similar to her mother's, but Gilbert's hazel eyes.)
Walter Blythe
Edit
Di and Walter were especial chums - Di was the only one to whom he would ever read the verses of poems he wrote himself. She was the only one who knew that he was secretly hard at work on an epic, strikingly resembling Marmion in some things, if not in others. Di kept all his secrets, even from Nan, and told him all hers.
Physical appearance
Edit
"Di is her father's favourite, because she has green eyes and red hair... red hair with a swirl to it."
—Anne Blythe describing her daughter.
Diana was described as looking most like her mother. She had flaming red hair, grey-green eyes and possibly the same freckled skin.
Etymology
Edit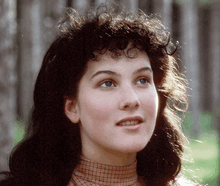 Diana is female given name of Latin origin and means divine.
Di was named after her mother's childhood and bosom friend, Diana Barry.
Diana's twin sister Nan named her only daughter after her.
Behind the scenes
Edit
Trivia
Di and her twin sister, Nan, were named after their mother, Anne, and her childhood friend, Diana Barry. Ironically, Anne has red hair and Diana is dark, whereas in the Blythe twins, Nan is dark and Di is redheaded.
Appearances
Edit
Book appearances
Short story appearances
The Road to Yesterday

"The Twins Pretend"
"Fancy's Fool" (mentioned only)
"The Pot and the Kettle" (mentioned only)
"Here Comes the Bride"

The Blythes Are Quoted

"The Twins Pretend"
"Fancy's Fool" (mentioned only)
"The Haunted Room"
"The Pot and the Kettle" (mentioned only)
"Here Comes the Bride"
"My House"
"The Pilgrim"
References
Edit