Barbara Hamilton was a Canadian actress, known for her role as Marilla Cuthbert in Anne of Green Gables: The Musical (1965–1968), Anne of Green Gables (1972) and Anne of Avonlea (1975).
Hamilton starred as Eulalie Bugle in several episodes of Road to Avonlea (1990–1996). She also played Shop Assistant in the 1956 film Anne of Green Gables and in its 1958 reprise.
Biography
Edit
Filmography
Edit
Year
Title
Role
1948
A Song Is Born
Woman at Dorsey Club
1950
The Lady Craved Excitement
Chorus Girl
Come Dance with Me
Kiki
1952
Stopwatch and Listen
Sunshine Sketches
Poet's Wife
1954
Howdy Doody
Willow
1956
Is It a Woman's World?
Anne of Green Gables
Shop Assistant
1957
On Camera
Mother
1958
Anne of Green Gables
Shop Assistant
1959
A Dangerous Age
1960
General Motors Presents
Just Mary
1961
One Plus One
Razzle Dazzle
Mother Mayonnaise
1964
The Forest Rangers
Aggie Apple
1972
The Year of the Yahoo!
Barbara
Anne of Green Gables
Marilla Cuthbert
1973
Delilah
Aunt Peggy
1974
The Naked Mind
And That's the News, Goodnight
Various Characters
1975
Anne of Avonlea
Marilla Cuthbert
1978
Mathmakers
1979
Lost and Found
Mrs. Bryce
1980
Archie Bunker's Place
Woman #2
1981
B.C.: A Special Christmas
Fat Broad
Sanford
Old Woman Juror
1983
Gimme a Break!
Lady Customer
1984–1985
Today's Special
Dr. Bennett
1985
Night Heat
Irma Deutch
1985–1986
Check It Out
Mrs. Cobb
1986
Seeing Things
Mrs. Coitart
1987
Adderly
1987–1988
Diamonds
1988
Sharon, Lois & Bram's Elephant Show
The Curio Shoppe Owner
Hot Paint
C.O.P.S.
Additional Voices
1989
Shining Time Station
Ginny
Glory! Glory!
Selma
Babar
Additional Voices
Street Legal
Dr. Bernstein
1990
Clarence
Mrs. Duckworth
1990–1991
E.N.G.
Christy Callwood
1991
Katts and Dog
Mrs. Baker
1992–1996
Road to Avonlea
Eulalie Bugle
1993
Change of Heart
Aunt Bea
1994
Shining Time Station: Once Upon a Time
Ginny
Shining Time Station: One of the Family
Ginny
Shining Time Station: Queen for a Day
Ginny
Shining Time Station: Second Changes
Ginny
The Mighty Jungle
Rose Hufnagel
Car 54, Where Are You?
Mrs. Muldoon
1996
Bogus
Mrs. Partridge
Behind the scenes
Edit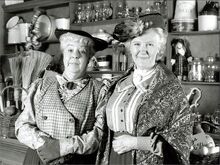 External links
Edit
Community content is available under
CC-BY-SA
unless otherwise noted.