Anne of Green Gables is a black-and-white Canadian TV film directed by Don Harron. It is based on Anne of Green Gables, a novel by L.M. Montgomery and stars Toby Tarnow as Anne Shirley. It is the original version of the musical Anne of Green Gables: The Musical.
Behind the scenes
Edit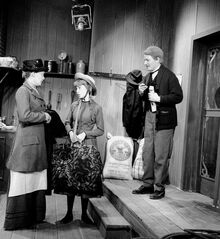 Casting
Production notes
Norman Campbell came up with the idea to adapt Anne of Green Gables, a book he was reading to his kids, into a television musical when he was given 90 minutes to fill on CBC.
Campbell's wife Elaine was thrilled by the book and managed to find the time to write lyrics even though she was taking care of their five children.
"Elaine kept writing the lyrics even when she was in the delivery room. She sent the lyrics to Norman and then gave birth. When he visited her immediately after the happy arrival, he congratulated her. First, on the lyrics she had written in extremis and secondly on the arrival of their son, Robin. Quoting from our new lyrics, Norm said, "We didn't clearly requested a boy, but, boy, are we happy with the one we got!"'"
The premiere was in danger because Toby Tarnow was suffering from some kind of food poisoning and could not utter a sound. Her co-star, Nonnie Griffin had pneumonia and her doctor forbade her to do the show; however, she disobeyed.[1]
"I was panicking, but Norm Campbell was cucumberish cool. He told Toby to just mouth the words as she took up all the camera positions she had rehearsed. She had been given a pill to induce her to throw up, but it got stuck halfway down. Buckets were placed at strategic spots around the studio in the event of deluge happened. [...] All I remember of the actual taping was that the little girl from Gravelbourg, Saskatchewan, managed somehow to give a full-fledged, full-voiced performance."
—Don Harron
Her Majesty The Queen Elizabeth II heard one of the songs during the opening ceremony of new Confederation Centre of the Arts in Charlottetown, Prince Edward Island in 1964. When Mavor Moore, the director general of the centre, explained that it was from Anne of Green Gables, she replied she'd like to hear the rest of it. As a result, the musical was created.
Trivia
This film is the first Canadian adaptation of Anne of Green Gables. Previous films Anne of Green Gables (1919), Anne of Green Gables (1934) and Anne of Windy Poplars (1940) were produced in the United States. A 1952 TV series Anne of Green Gables was filmed in England.
Anne of Green Gables was produced for CBC Television, which also commissioned the more famous 1985 film adaption and the 2017 TV series Anne with an E.
The film is still in existence as clips of it were used in "Lucy Maud Montgomery: The Many Mauds", an episode of the 1996 CBC Life & Times documentary.
The film was to be aired on January 11, 2006 in Hollis Social Library, New Hampshire according to the Merrimack Journal, December 30, 2005. The report contained an article on the film and a still from it.
References
Edit
External links
Edit
Community content is available under
CC-BY-SA
unless otherwise noted.