Anne of Green Gables is a 1919 silent film directed by William Desmond Taylor. It is based on Anne of Green Gables by L.M. Montgomery.
Anne Shirley, an orphan, is taken into the lives of a generous farmer and his sister. She grows from an adventuresome young lass into a charming and much sought-after young lady.
Matthew and Marilla Cuthbert adopt a lively child named Anne Shirley to live with them on their farm, Green Gables. Although Anne's whimsical nature is at first misunderstood by her unimaginative foster mother, the two come to love each other. Anne's antagonists are Mrs. Pie, the village gossip, and her malicious daughter Josie. Anne is involved in many mischievous adventures as a girl, but after her graduation, she becomes the village schoolmistress and saves her meager earnings for an operation that will restore her mother's failing sight. One of her pupils, Anthony Pie, claims that Anne beat him cruelly and broke his arm. Reverend Figtree, however, reveals to the angry townspeople that he saw Anthony break his arm when he fell from a haywagon. Exonerated, Anne marries her sweetheart, Gilbert Blythe.[1]
Main cast

Supporting cast

Other cast

George Stewart as unspecified character
Beatrice Allen as minor character (uncredited)
Harry Bartlett as minor character (uncredited)
Mary Hall as minor character (uncredited)
Behind the scenes
Edit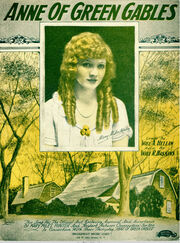 This is the first film adaptation of Anne of Green Gables.
It was filmed in Dedham, Massachusetts, USA, from August 1919 to October 1919. It was released on November 23, 1919.
Due to being filmed in the United States, the main set is drastically different from the Canadian one. The Green Gables home featured on a cover bore no resemblance to the original Green Gables.
By 1999, all prints of the film were believed to have been lost.
The film was recreated in 2008 by Jack and Linda Hutton and can be purchased at their website.
Notes and references
Edit
External links
Edit
Community content is available under
CC-BY-SA
unless otherwise noted.