Anne of Green Gables is a 1972 television series created by the BBC. It was directed by Joan Craft and stars Kim Braden as Anne Shirley. It is based on Anne of Green Gables by L.M. Montgomery.
Along with the 1919 film Anne of Green Gables and the 1952 TV series Anne of Green Gables, it is believed to be lost.
Behind the scenes
Edit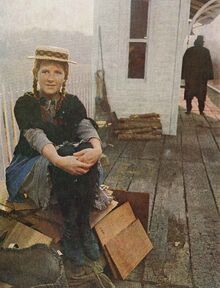 Casting
Trivia
Anne of Green Gables is one of the few BBC 1 Sunday Serials which is missing and no longer exists in the BBC archives, making it one of several lost adaptations.
The series was reprised only once, from August 5 to September 2, 1973, on BBC.
Kim Braden did record an audiobook of Anne of Green Gables for Music for Pleasure in 1988, possibly capitalising on the CBC series starring Megan Follows. It is an abridged recording (it is only 3 hours long), but together with the surviving stills, it gives a sense of what the 1972 series was like. 
External links
Edit
Community content is available under
CC-BY-SA
unless otherwise noted.