Anne of Green Gables: A New Beginning is a 2008 miniseries directed by Kevin Sullivan. It was preceded by Anne of Green Gables: The Continuing Story and first aired on CTV in December 14, 2008, but premiered on PBS in November 1, 2010.
Synopsis
[
]
Plot
[
]
It's the mid 1940s, and the war in Europe is winding down. Anne Shirley – now a successful, middle-aged writer – has returned to Prince Edward Island for an extended visit. On a whim, she's agreed to write a play for theatre producer and friend, Gene Armstrong; a play that will be performed as part of the White Sands Hotel 1945 summer stock season.
Anne is forced to admit that the play is nothing more than a distraction: a way to take her mind off upsetting recent events in her life. Her only son Dominic has yet to return from the war. The play, she reasons, will keep her busy, at least busy enough to keep her from going out of her mind with worry.
Attempting to add inspiration for her new play, she returns to Green Gables in an attempt to cure her writer's block. But a long-hidden secret discovered under the floorboards at Green Gables, in the form of a mysterious letter from her long-lost father, needs a distraction of its own. As Anne struggles to complete the play she has promised to Gene, she delves into long-buried memories, reliving the troubled days before she arrived as an orphan at the Cuthberts' farmhouse.
After crushing circumstances shepherd about the death of Anne's mother and her ne'er-do-well father, Walter Shirley leaves town, Anne's heavenly world is turned upside down. Taken into the care of the Bolingbroke County Poorhouse, she is mistreated by the Superintendent, his wife, and the other inmates. She gains the courage to escape the terrible conditions and eventually finds a shelter in the care of her mother's closest friend, Louisa Thomas.
Along with Louisa's three children, Violetta, Jock and Keith, Anne travels to Marysville, New Brunswick to take up residence with the family matriarch, Amelia Thomas. A prominent, strong-minded business woman and only overseer of the Thomas family industries, Amelia does not take to having the young orphan move into her home and she is even more intolerant of Louisa showing up with a "stray child".
After much pleading, Anne is permitted to stay on as a lone stable hand. Her integrity is questioned by Amelia's snobbish housekeeper, Hepzibah Leach, who is intent on making the child's life extremely difficult. However, when word erupts that the workers in the Thomas mills are willing to revolt, and Anne realizes her own father is part of the uprising, she finds herself a pawn in the battle between the Town and Amelia Thomas. Through the intervention of a mysterious loner named Nellie Parkhurst, Walter Shirley manages to reconnect with Anne and attempts to make himself part of her life again. Catastrophe intervenes, Amelia and Anne are torn apart and Anne finds herself homeless and left by both her father and Louisa once more.
After 40 years of being separated from her father, when Anne responds to the long-lost letter she senses a dull expectation that it may never been too late to connect once again. She has several unanswered questions and she wishes that a newly formed correspondence with him will yield answers. Eventually, the reunion with her aged father holds as much disappointment for Anne as his disappearance from her childhood.
Anne ultimately succeeds in writing the play which Gene enthusiastically sets into production. Looking back on her life, however, she realizes that her distant and troubled memories do not provide the key to reconciling the many quandaries in her life. She concludes that all of the good and the bad that she has experienced have made her strong and given her an unusual voice. She has struggled to be accepted all her life, but she realizes at the end that the more love a person gives in life, the easier is to find. When Dominic returns from the war with a fiancée and wedding plans unfold, Anne realizes how extraordinary her life has been, due to the unique closeness she has founded with family, friends and community.
Cast
[
]
Ron Lea as Gene Armstrong
Mike Beaver as Doctor Thomas
Rachel Blanchard as Louisa Thomas
Vivien Endicott-Douglas as Violetta Thomas
Tyler Stevenson as Jock Thomas
Aiden Locke as Keith Thomas
Rex Southgate as Reverend Jones
Robin Brulé as Elsie Barry
Tim Campbell as John Barry
Robyn Thaler Hickney as Female Actor
Maggie Huculak as Superintendant
Deborah Grover as Overseer's Wife
Bernard Behrens as Gabriel Blake
Jackie Brown as Mary
Robert Bockstael as Overseer
Jackie Laidlaw as Flower Vendor
Kyra Harper as Nellie Parkhurst
Joan Gregson as Hepzibah
Shirley MacLaine as Amelia Thomas
Lynne Griffin as Ruth Bridgewater
Brad Austin as Barn Groom
Chris Benson as Foreman

James Carroll as Jeremiah Land
Catherine Fitch as Cider Press Woman
Steve Ferguson as Millworker
Chris Gillett as Philip Granger
David Talbot as Postman
Tom Slater as Alan Laing
Ray Kahnert as Mr. Hammond
Marc Strange as Mr. Harding
Ann Holloway as Housekeeper
Briony Glassco as Secretary
Courtenay Stevens as Clerk
Jennifer Phipps as Maid
Alec Stockwell as Driver
Amber Cull as Rilla
Jessica Porter as Frannie
Brendan Wall as Tom
Marc Bendavid as Dominic
Melanie Scrofano as Brigitte
Cyrus Lane as Andrew
Joan Heney as Hetty King
Barry Stillwell as Fred Wright
May Walker as Diana Barry
Colleen Dewhurst as Marilla Cuthbert (archive footage)
Connections
[
]
Behind the scenes

Trivia
Barbara Hershey had never read Anne of Green Gables. She did not read it after getting the part of Anne, either, because she wanted to "approach the mature Anne in a fresh, alternative way".
In real life, Shirley MacLaine (Amelia Thomas) has a mother named Kathlyn Corinne MacLean, who is Canadian (like the Anne series' author, L.M. Montgomery-we explained that Montgomery was died on April 24, [in which Shirley MacLaine was born this day] 1942).
Hannah Endicott-Douglas has natural blue eyes, however, Anne Shirley's eyes were green. For this film, Hannah's eyes were digitally changed in post-production to be green.
Anne of Green Gables: A New Beginning was the first Anne film to be broadcasted in high-definition.
Gallery
[
]
Videos
[
]
Trailers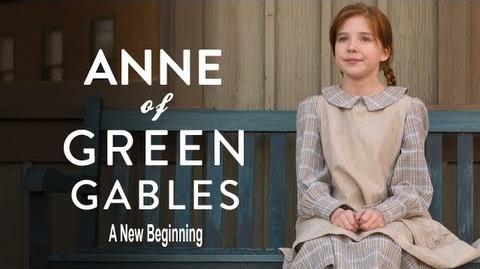 Behind the scenes
Interviews
External links
[
]
See also
[
]