Anne of Avonlea
is the second book in the
Anne of Green Gables series
by
L. M. Montgomery
. In this book,
Anne Shirley
, the protagonist, is sixteen and has taken up the post of teacher in her small village of
Avonlea
.
Anne of Avonlea
chronicles her adventures from age sixteen to age eighteen.
Dedication
Edit
"to
my former teacher,
HATTIE GORDON SMITH
in grateful remembrance of her
sympathy and encouragement."
At age sixteen, Anne is grown up... almost. Her grey eyes shine like evening stars, but her red hair is still as peppery as her temper. In the years since she arrived at Green Gables as a freckle-faced orphan, she has earned the love of the people of Avonlea and a reputation for getting into scrapes. But when Anne begins her job as the new schoolteacher, the real test of her character begins. Along with teaching the three Rs, she is learning how complicated life can be when she meddles in someone else's romance, finds two new orphans at Green Gables and wonders about the strange behavior of the very handsome Gilbert Blythe. As Anne enters womanhood, her adventures touch the heart and the funny bone. (from the 1998 Bantam Books reissue)
Chapter 1: An Irate Neighbor
Edit
Chapter 2: Selling in Haste and Repenting at Leisure
Edit
Chapter 3: Mr. Harrison at Home
Edit
Chapter 4: Different Opinions
Edit
Chapter 5: A Full-fledged Schoolma'am
Edit
Chapter 6: All Sorts and Conditions of Men ... and Women
Edit
Chapter 7: The Pointing of Duty
Edit
Chapter 8: Marilla Adopts Twins
Edit
Chapter 9: A Question of Colour
Edit
Chapter 10: Davy in Search of a Sensation
Edit
Chapter 11: Facts and Fancies
Edit
Chapter 12: A Jonah Day
Edit
Chapter 13: A Golden Picnic
Edit
Chapter 14: A Danger Averted
Edit
Chapter 15: The Beginning of Vacation
Edit
Chapter 16: The Substance of Things Hoped For
Edit
Chapter 17: A Chapter of Accidents
Edit
Chapter 18: An Adventure on the Tory Road
Edit
Chapter 19: Just a Happy Day
Edit
Chapter 20: The Way It Often Happens
Edit
Chapter 21: Sweet Miss Lavendar
Edit
Chapter 22: Odds and Ends
Edit
Chapter 23: Miss Lavendar's Romance
Edit
Chapter 24: A Prophet in His Own Country
Edit
Chapter 25: An Avonlea Scandal
Edit
Chapter 26: Around the Bend
Edit
Chapter 27: An Afternoon at the Stone House
Edit
Chapter 28: The Prince Comes Back to the Enchanted Palace
Edit
Chapter 29: Poetry and Prose
Edit
Chapter 30: A Wedding at the Stone House
Edit
This setting of the book is in the early 1880s. It starts in August 1881 and ends in August 1883.
Adaptations
Edit
Television series
Radio dramas
Anne of Avonlea (1954), a Canadian radio drama, originally produced and broadcast on CBC Radio in 1954. It starred Toby Tarnow as Anne.
Anne of Avonlea (1979), a Polish radio drama, originally produced and broadcast in 1979. It was directed by Maria Wachowiak and starred Anna Romantowska as Anne.
Television films and miniseries
Books
Stage
Anne & Gilbert (since 2005), a stage production that has been playing since 2005. Its first act is based on Anne of Avonlea, while the second part is based on Anne of the Island. It follows very closely to the books, with only a few minor changes.
Audio dramas
Web
Behind the scenes
Edit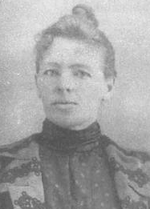 Anne of Avonlea is dedicated to Hattie Gordon Smith, Lucy Maud Montgomery's favourite teacher who taught her in Cavendish, Prince Edward Island, when Montgomery was fourteen years old. Miss Gordon was probably the first teacher who helped Montgomery cultivate her writing talent.
Montgomery began writing this book in winter 1908 and finished it on August 3, 1909.
The original manuscript of Anne of Avonlea no longer exists.
External links
Edit