"I read in a book once that a rose by any other name would smell as sweet, but I've never been able to believe it. I don't believe a rose would be as nice if it was called a thistle or a skunk-cabbage."
This article is about the 2005 musical. You may be looking for "Anne & Gilbert", an episode of Kissing in the Rain (2014).
Anne & Gilbert is a musical stage production that was first performed in 2005. It is the sequel to Anne of Green Gables: The Musical. Adapted by Jeff Hochhauser, Nancy White, and Bob Johnston, the musical is split into two acts: the first act is based on Anne of Avonlea, while the second act is based on Anne of the Island.
Anne & Gilbert begins in the beautiful countryside of Prince Edward Island. Anne is now an independent-minded young woman about to begin her first job teaching at a one-room schoolhouse. Romantic complications unfold when childhood sweetheart Gilbert Blythe proposes marriage— and he's not her only suitor.
Troubled by her orphan past, Anne doubts if she can love anyone. But as Anne discovers the truth about her parents, a path to future happiness is revealed.
Award-winning songs, memorable comedy and drama, and a message of enduring love, hope and friendship make Anne & Gilbert unforgettable family entertainment.[1]
Gilbert Blythe gives up the position of Avonlea Schoolmaster for Anne Shirley, allowing her to stay and care for Marilla Cuthbert. Almost all of Avonlea is aware that Gilbert and Anne are deeply in love with one another, though Anne will not admit it. In exchange for his kindness, Anne agrees to a wager with Gilbert; he may propose to her at any day of his choosing but if she refuses, he will not ask again. Soon afterward, Anne's best friend Diana Barry becomes engaged to Fred Wright and marries him. Gilbert proposes to Anne after the wedding, but she turns him down and he vows never to propose again. Through a series of fortuitous events, Anne is finally able to follow her dreams and go to Redmond University.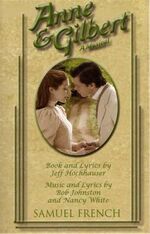 Anne finds several new friends at Redmond and develops a romantic relationship with Royal Gardner, a handsome millionaire, much to the dismay of Marilla and Diana. Though she considers marrying Roy, Anne realizes that she does not truly love him and rejects his proposal. Meanwhile, Gilbert has been working as a waiter at the restaurant where Anne and Roy have been meeting in order to pay for university. As an early birthday gift, he gives her three letters her parents left behind before they died. Reading the contents of the letters, Anne realizes that she truly can love someone, and finally finds the love she's had for Gilbert all along. When she and Gilbert return to Avonlea for the summer, she proposes to him as the entire town and their friends from Redmond look on.
The original soundtrack for the musical was released in 2005, featuring Marla McLean (Anne), Peter Deiwick (Gilbert) and the entire original cast.
"Mr. Blythe"
"Gilbert Loves Anne of Green Gables"
"Averil's Ideal"
"Carried Away By Love"
"Saturday Morning"
"Hello Gilbert!"
"All You Can Do Is Wait"
"Our Duty"
"Averil's Ideal Reprise"
"Someone Handed Me The Moon"
"The Days Ahead"
"When He Was My Beau"
"Gilbert Would Never Compose a Sonnet To My Eyes"
"Hothouse Flower"
"You're Island Through and Through"
Main article: Anne & Gilbert (musical)/Cast
Behind the scenes
Edit
Notes and references
Edit
External links
Edit
Community content is available under
CC-BY-SA
unless otherwise noted.